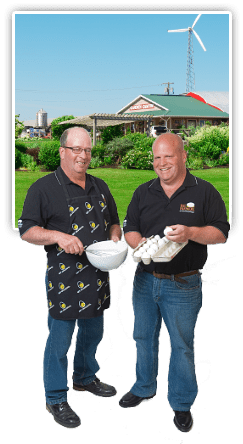 Ian and Doug Simmons
Red Bridge and Kool Breeze Farms
Ian and Doug may not have started their working lives together but it didn't take long for the two brothers to come together and continue the farming tradition started by their grandfather in the early 1900's and continued by their father Eldred Simmons. In 1986 while home from college, Ian built a small greenhouse and started growing plants as a hobby. This year, 2011, they are adding their 15th Greenhouse to the Garden Centre Operation. In 1990 Ian, Doug and their late father Eldred formed a company called Kool Breeze Farms and at that time it was a mixed farm with the garden center, custom work, chickens and cattle. The cattle were replaced by hogs until 2007 and now the pair concentrates on egg farming (Red Bridge Farms) and the greenhouse business (Kool Breeze Farms).
The brothers, recognized nationally as leaders in environmental farm practices, have received quite a bit of attention for getting most of the farm's energy from wind power on site. This coming year- 2011 they are adding a second Wind Turbine and will be self-sufficient for electricity! They also participate in the ALUS program with waterways and berms to control water runoff from their land. The manure they produce from their layer operation is now being used to grow corn. As a member of the Summerside Chamber of Commerce, Landscape PEI and the PEI Federation of Agriculture, Kool Breeze Farms believes in giving back to the community on a regular basis. Their Scarecrow Contest draws roughly 3000 Islanders each fall for a day of learning and fun.
Ian's tips to other farmers – "Do the best job you can do". It is all about being a little bit better each day than you were the day before.

---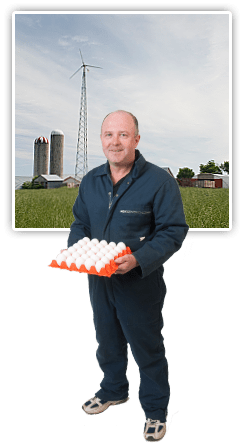 John Dennis
Port Hill Farm
John is the 3rd generation of the Dennis family to farm the same land. Married to Kim; the couple has two sons Garret and Austin. John checks his flocks every day to make sure his hens are in good shape – that they have enough fresh feed, fresh water and fresh air. In addition to the busy life of an egg farmer, John has served as Chair of the Egg Producers of Prince Edward Island. He has been a member of his local church, a director with the Western PEI Holstein Club and the ADL Board. He is also the trainer of the local Atom Hockey Team.
---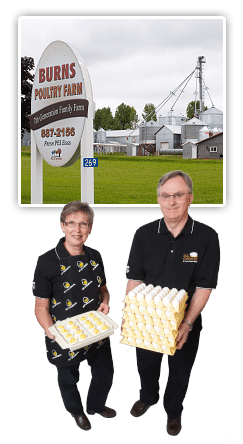 Donald and Lorna Burns
Burns Poultry Farm
When Donald's father passed away unexpectedly, Donald and Lorna saw an opportunity to run their own business and took the challenge of running the family farm, becoming the 6th generation of egg farmers in the Burns family. Donald and Lorna say the thing they enjoy most about egg farming is raising the best hens and providing top quality eggs for their PEI neighbours. They also enjoy growing their business, being able to work hard and experience success.
In 1978, the Burns family farm became the first and only egg farm on PEI where eggs went directly from the laying barn to the grading station. Here eggs are cleaned, sized, graded and packed into cartons all on their farm. Donald has been part of community service groups such as Rotary and The Downtown Business Association. He has been active in the egg industry holding executive positions with the Canadian Egg Marketing Agency (now Egg Farmers of Canada), the Egg Producers of PEI, Approved Flock Association and the Atlantic Hatchery Association.

---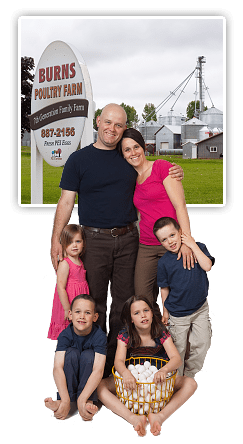 Nathan and Wendy Burns
Burns Poultry Farm
Nathan and his wife Wendy are 7th generation egg farmers and they hope their children Mallory, Kendall, Mitchell and Shelby will be the 8th generation. Nathan and Wendy (Burns Poultry Farm ) own and operate a federally inspected grading station on their farm – one started by Nathan's parents, Don and Lorna Burns. They are proud to have been featured in the Atlantic Cooperators magazine, the 2008 PEI Enhanced Environmental Farm Plan Calendar and in the book Keepers of the Land- A Celebration of Canadian Farmers, by Carl Hiebert. Both Nathan and Wendy are graduates of the Nova Scotia Agricultural College. Wendy is the Vice President of the Elm Street Elementary Home and School. Both Nathan and Wendy volunteer for the school's hot lunch and breakfast programs. For fun, they enjoy four wheeling, camping and spending time with their family.
---
Peter Stavert
Donald and Peter Stavert Farm
Peter and Donald are fourth generation farmers on their land. Farming seemed to come naturally to the two brothers since their father was also an egg farmer before them. In fact, Donald and Judy's son Greg is now the fifth generation to work on the family farm. In addition to eggs, the Staverts produce potatoes and beef. Peter says he enjoys being able to produce and sell good healthy food to neighbours at reasonable prices. The biggest challenge for him today is the politics of producing food.
A farmer's life is caring for their animals—in this case, the laying hens. When Peter has some down time he loves to spend time with his wife Carol and sons Nathan and Isaac along with other family and friends. Peter also finds time to coach his son's minor hockey team. Community involvement is part of the Stavert's life with egg donations to school fundraising efforts. Peter and Donald are particularly proud of the soil conservation efforts they have made on their farm.